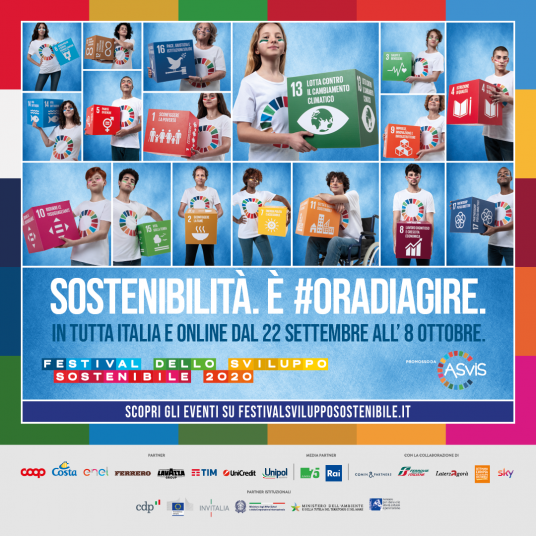 #Elba2035 Among the Events Scheduled for AsviS' Next Festival of Sustainable Development
#Elba2035 Among the Events Scheduled for AsviS' Next Festival of Sustainable Development
The next 22nd of September will be the inauguration day of the 2020 edition of the Festival of Sustainable Development organised by ASviS Italia (Alleanza Italiana per lo Sviluppo Sostenibile - "Italian Alliance for Sustainable Development").
This festival constitutes the largest ever Italian initiative for the increase of awareness and mobilisation of citizens, enterprises, associations and institutions in regard to economic sustainability, both social and environmental, through events and encounters aimed at promoting the achievement of the objectives set out by the UN's 2030 Agenda and the 17 goals of sustainable development.
The schedule of events and appointments planned throughout Italy (as well as online) already features more than 100 entries - see the programme here: https://festivalsvilupposostenibile.it/2020/tutti-gli-eventi/. #Elba2035 is also proud to be featured in such a rich calendar of events with a dedicated encounter, taking place on the 5th of October at the Headquarters of the Tuscan Archipelago National Park.
10 years from the deadline set by the UN's document and following the onset of the Covid-19 pandemic which has shown the fragility of our socioeconomic system, for the occasion of the 2020 Festival of Sustainable Development ASviS has also launched the campaign #ORADIAGIRE ("#TIMETOACT"), a call to action aiming at developing the initiatives put in place in favour of a fairer, more inclusive and sustainable world. An invitation to mobilisation which also characterises #Elba2035, indeed a true example of multi-stakeholder involvement with the goal of drafting the first Manifesto for Sustainable Development of Isola d'Elba, making sustainability an integral part of the local development and marketing strategy. All this starts from paying particular attention to the values and culture of the local territory, alongside Agenda 2030, showing the same ambition and integrated approach.
Follow us on our blog and our social page @seaessenceinternationalfestival and we will share with you every detail of the next #Elba2035 appointment organised by Acqua dell'Elba and co-ordinated by EY.
---